Hydralada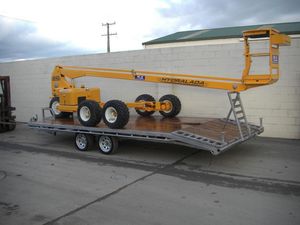 Description
For use in painting, signwriting, building, tree topping, overhead lighting, factory maintenance, cleaning and general overhead work.
Fixed Boom
4 Wheel Drive
Platform Height: 6.4m
Overall Width: 2.5m
Wheel Base 3.8m
Safe Working Load: 175kg

Safety Requirements
Check site for overhead DANGER. Be clear of instructions before use. DO NOT use in high winds. DO NOT lift loads with the basket. DO NOT operate within 4 METRES of POWERLINES.
Safety Harness MUST be worn at all times whilst in use. The adjustable lanyard must be adjusted to allow free movement of the user within the confines of the basket. Personal protective equipment is supplied with each hire at a rate of $25. This comprises of a harness and helmet.

Hire Charges
$170 Half Day
$250 Full Day
$25/Day Harness & Helmet