Sharon De Ville, Forecourt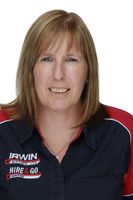 Sharon moved to New Zealand from the UK in 2009, and has been working in the retail shop for almost as long. She really enjoys interacting with customers and says Irwin Motors is a great place to work.
Sharon has been married for 30 years and has two grown children. When she's not working, she enjoys gardening and reading.