Winton Open Day - 18 November 2018 - FREE - Drive a Digger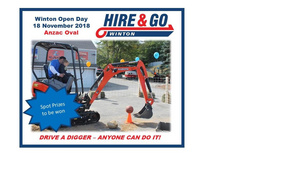 Winton Open Day - 17 November 2019 - Anzac Oval (beside Country Jewel)
Drive a Digger for FREE
ANYONE can do it.
Spot Prizes to be WON
SWAP & GO LPG Bottles
We now offer a SWAP AND GO 9kg LPG bottles.
NO Membership
NO Waiting
NO Extra Cost if Bottle has Expired
* LPG Bottle does need to be in a tidy condition (ie no rust or dents)
* We can still fill your own gas bottles.
OPENING HOURS
Monday-Friday 6am-8pm
Saturday and Sunday 7am-7pm