About Irwin Motors
Blair and Robin Irwin
Irwin Motors and Hire & Go Winton have been locally owned and operated by Blair and Robin Irwin since 2005.
Blair started working at Winton Motorcycles after school when he was 15 years old. Once he left school, he qualified as a Motorcycle Engineer and worked for them for eight years. After leaving Winton Motorcylces, he earned his Automotive Certificate at McKay Motors and was the Manager there for two years.
Hire & Go started with a horse float and a salvage trailer and continues to expand every year.
Robin handles all the books and lends a hand in the retail shop when it gets busy. She also likes a competitive game of squash.
Blair and Robin have two children and they enjoy taking 4WD trips, boating and heading to Te Anau for a bit of rest and relaxation.
Hub Robertston, Mechanic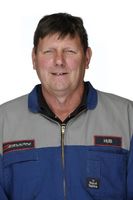 Hub has been a mechanic for over 20 years and has been working for Blair since 2013. He's the WOF, service, brakes and tyres technician. He enjoys the comraderie and meeting different people each day and sharing a story or joke with them.
Hub likes to play a weekly round of golf and is a keen duck shooter. He and his wife, Kirsty have three grown children.
Nathan Holland, Mechanic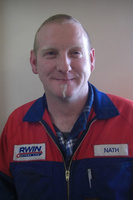 Nathan has been a mechanic for about 20 years and joined the team at Irwin Motors in 2017. He's an all-rounder who can do mechanical and electrical repairs, WOF and servicing. He likes the range of work and being able to fix things and make them work better.
Outside of work, Nathan enjoys trail riding, woodwork, classic cars and spending time developing his hobby farm.